Ferris Bueller's Day Off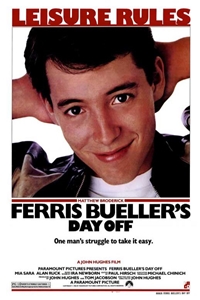 When Ferris decides he is going to play hooky from school one day, the suspicious dean of students sets out to catch him in the act, as well as his sister who is frustrated that he is always getting away with things.
Runtime1 hr. 38 min.
CastMatthew Broderick, Jennifer Gray, Charlie Sheen, Alan Ruck
Director John Hughes
Genre Comedy
ReleaseJune, 11th 1986
Rated