Harry Potter and the Prisoner of Azkaban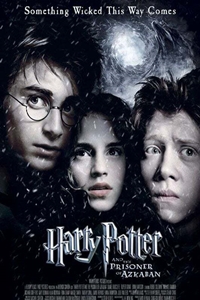 When Harry Potter's horrible Aunt Marge bullies him beyond his limits, he "accidentally" causes her to inflate like a balloon and drift away! Fearing punishment and repercussions from Hogwarts and the Ministry of Magic -- Harry escapes into the night. Along the way, Harry tries to make sense of Hermione's puzzling appearances and disappearances. A confrontation between Harry and the menacing Sirius Black seems inevitable, but what exactly is Professor Lupin's relationship with Black? And, what is the dark secret that Professor Snape is so eager to reveal? Harry must answer these questions and uncover the truth behind Sirius Black and his ties to the gifted young wizard's mysterious past.
Runtime2 hr. 19 min.
CastDaniel Radcliffe, Emma Watson, Rupert Grint, Gary Oldman
Director Alfonso Cuarón
Genre Family
ReleaseJune, 4th 2004
Rated