That Time I Got Reincarnated as a Slime The Movie: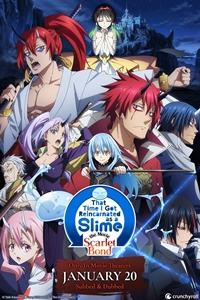 A long-running conspiracy is swirling over a mysterious power known as "Queen" in Raja, a small country west of Tempest. When a slime who evolved into a Demon Lord named Rimuru Tempest crosses paths with Hiiro, a survivor of the Ogre race, an incredible adventure begins.
Runtime1 hr. 50 min.
CastTakahiro Sakurai, Makoto Furukawa
Director Yasuhito Kikuchi
Genre Animation
ReleaseJanuary, 20th 2023
Rated