The Chosen Season 3: Episodes 1 & 2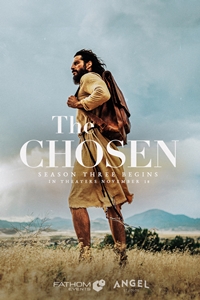 Jesus gives a sermon that turns the world upside down, and all 12 disciples are ready to follow him to the ends of the earth. Episodes1 & 2 of Season Three pick up where we left off, and in this unique theatrical experience, launch the most emotional and consequential season of The Chosen to date.
Runtime2 hr. 10 min.
CastJonathan Roumie, Shahar Issac, Noah James, Liz Tabish
Director Dallas Jenkins
Genre Program
ReleaseNovember, 18th 2022