The Fifth Element 25th Anniversary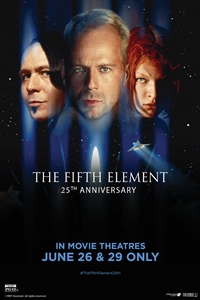 Humanity has wandered out among the stars and a doorway between parallel dimensions is opened. Humanity's hopes may lie with the life force of the fifth element, Leeloo (Milla Jovovich) and New York cab driver Korben Dallas (Bruce Willis) who holds the future of the universe in their hands. 
Runtime2 hr. 15 min.
CastBruce Willis, Gary Oldman, Ian Holm, Milla Jovovich
Director Luc Besson
Genre SciFi/Fantasy
ReleaseJune, 26th 2022