Only Yesterday - Studio Ghibli Fest 2022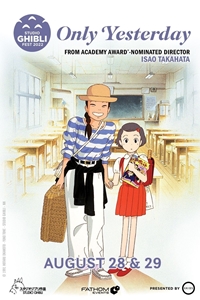 From Academy Award-nominated director Isao Takahata (The Tale of The Princess Kaguya) and general producer Hayao Miyazaki, Only Yesterday is a masterpiece of time and tone, rich with humor and stirring emotion, and beautifully animated by one of the world's most revered animation studios.
Runtime2 hr. 15 min.
CastDaisy Ridley, Dev Patel
Director Isao Takahata
Genre Animation
ReleaseAugust, 28th 2022
Rated