Kiki's Delivery Service - Studio Ghibli Fest 2022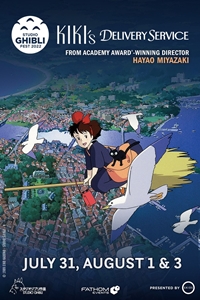 Celebrate this beloved coming-of-age story from the legendary Studio Ghibli, creators of Spirited Away, and Academy Award-winning director Hayao Miyazaki, about a resourceful young witch who uses her broom to create a delivery service, only to lose her gift of flight in a moment of self-doubt.
Runtime1 hr. 57 min.
CastKirsten Dunst, Janeane Garofalo, Phil Hartman, Debbie Reynolds
Director Hayao Miyazaki
Genre Animation
ReleaseJuly, 31st 2022
Rated