Music, Money, Madness... Jimi Hendrix in Maui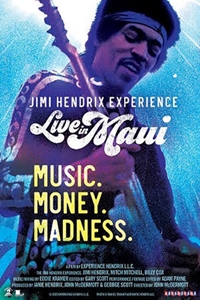 Jimi Hendrix In Maui chronicles Jimi Hendrix's storied 1970 visit to Maui, his performance on the dormant lower crater of the Haleakala volcano.

The film presents Hendrix, joined by bassist Billy Cox and drummer Mitch Mitchell at the height of his powers, playing flawlessly against a stunning natural backdrop. Included are breathtaking renditions of "Foxey Lady," "Purple Haze," and Voodoo Child (Slight Return)," as well as then-unreleased songs like "Dolly Dagger" and "Freedom" that showcased the new direction Hendrix was moving toward.
Runtime1 hr. 31 min.
CastJimi Hendrix, Mitch Mitchell, Billy Cox
Director John McDermott
Genre Documentary
ReleaseFebruary, 1st 2022
Rated