Scream Fan Event with Q&A Livestream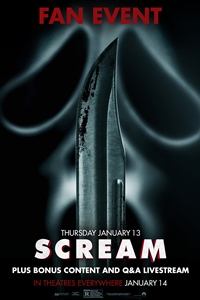 Paramount Pictures is pleased to announce a special event offering core fans the chance to seeSCREAM as part of a 1-day, 1-show only LIVE Q&A streamed live to participating locations onThursday, 1/13 @ 5PM PST (6PM MST, 7PM CST, 8PM EST).
Runtime2 hr. 13 min.
CastMelissa Barrera, Mason Gooding, Jenna Ortega, Jack Quaid
Director Matt Bettinelli-Olpin, Tyler Gillet
Genre Program
ReleaseJanuary, 13th 2022
Rated