When You Finish Saving the World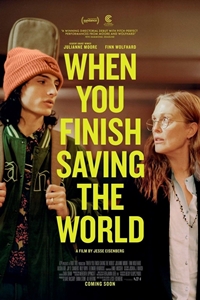 Evelyn has devoted herself to helping people in hard times, but she struggles to connect with her son Ziggy, an aspiring internet star oblivious to the problems of the world. As they cope with their respective problems, this emotional comedy reveals a funny and sharply perceptive portrait of a mother and son who are more alike than either would care to admit.
Runtime1 hr. 28 min.
CastJulianne Moore, Finn Wolfhard, Alisha Boe, Jay O. Sanders
Director Jesse Eisenberg
Genre Comedy
ReleaseJanuary, 20th 2023
Rated