Guillermo del Toro's Pinocchio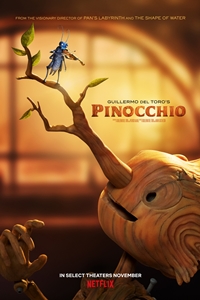 Academy Award®-winning director Guillermo del Toro and award winning, stop-motion legend Mark Gustafson reimagine the classic Carlo Collodi tale with a whimsical tour de force that finds Pinocchio on an enchanted adventure that transcends worlds and reveals the life-giving power of love.


Runtime1 hr. 57 min.
CastCate Blanchett, Ewan McGregor, Christoph Waltz, Finn Wolfhard
Director Mark Gustafson, Guillermo del Toro
Genre Animation
ReleaseNovember, 9th 2022
Rated