Evangelion: 3.0 1.0 Thrice Upon a Time (Shin Evang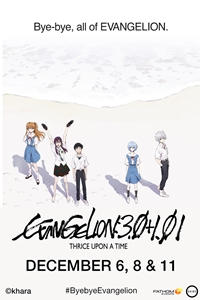 The final installment of the REBUILD OF EVANGELION films, bringing an epic conclusion to the story of Shinji and his fellow Eva pilots, with the stunning visuals and thought-provoking storytelling that has made EVANGELION a global pop culture phenomenon.
Runtime2 hr. 45 min.
CastMegumi Hayashibara, Megumi Ogata, Yûko Miyamura, Akira Ishida
Director Masayuki, Katsuichi Nakayama
Genre Animation
ReleaseDecember, 6th 2022