Demon Slayer - Kimetsu no Yaiba - The Movie: Mugen Train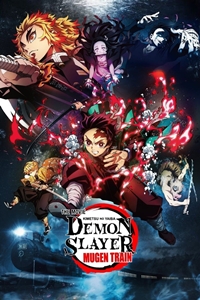 Tanjiro, Nezuko, Zenitsu, and Inosuke join together with one of the most powerful swordsmen of the Demon Slayer Corps, Flame Hashira Kyojuro Rengoku, to investigate the mysterious disappearance of over 40 people aboard the Mugen Train.
Runtime1 hr. 57 min.
CastNatsuki Hanae, Yoshitsugu Matsuoka, Satoshi Hino, Hiro Shimono
Director Haruo Sotozaki
Genre Animation
ReleaseApril, 23rd 2021
Rated