Audible Presents the Dave & Rachel Hollis Variety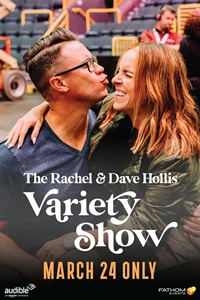 Audible and the author of the highly anticipated Get Out of Your Own Way, Dave Hollis, presents the 'Rachel & Dave Hollis Variety Show' March 24th, 2020 at The Paramount Theater in Austin, Texas. The evening will kick off with Dave and Rachel as they host the first on-stage edition of the Start Today Morning Show, followed by a live recording of the RISE Together Podcast, ending with a dynamic interview with Dave Hollis about his new book led by none other than his wife, Rachel Hollis.

Added Value Description: Online purchases through ATOM only will receive a redemption code to download Dave's new book via Audible.
Runtime2 hr. 0 min.
Genre Program
ReleaseMarch, 24th 2020