Babe (1995) 25th Anniversary presented by TCM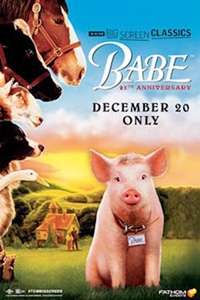 Academy Award® winner and Best Picture nominee, Babe is the inspirational story of a shy piglet who doesn't quite know his place in the world. But when Farmer Hoggett wins him at the county fair, Babe discovers that he can be anything he wants to be!
Runtime1 hr. 40 min.
CastJames Cromwell, Magda Szubanski, Christine Cavanaugh, Miriam Margolyes
Genre Program
ReleaseAugust, 9th 2020