KonoSuba - God's Blessing on This Wonderful World!: Legend of Crimson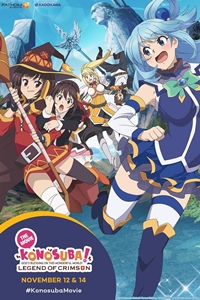 Be the first to see the brand new movie KONOSUBA -God's blessing on this wonderful world!- Legend of Crimson at this special premiere event from Crunchyroll and Fathom Events, featuring exclusive commentary from the voice actors of Konosuba!
Runtime1 hr. 35 min.
CastJun Fukushima, Sora Amamiya, Rie Takahashi, Ai Kayano
Director Takaomi Kanasaki
Genre Program
ReleaseNovember, 12th 2019