Thor: Love and Thunder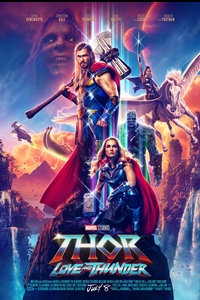 "Thor: Love and Thunder" finds Thor on a quest for inner peace. But his retirement is interrupted by a galactic killer, Gorr the God Butcher, who seeks the extinction of the gods. Enlisting the aid of several powerful friends, Thor embarks upon a harrowing cosmic adventure to stop the God Butcher's quest for vengeance.

Runtime1 hr. 59 min.
CastNatalie Portman, Chris Hemsworth, Tessa Thompson, Taika Waititi
Director Taika Waititi
Genre Action/Adventure
ReleaseJuly, 8th 2022
Rated