Blink of an Eye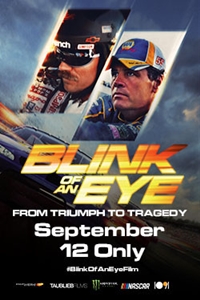 Based on the New York Times bestselling book, "BLINK OF AN EYE," focuses on Michael Waltrip and his star-crossed friendship with the iconic driver, Dale Earnhardt Sr.

Over 462 races, Waltrip failed to notch a single win, the longest losing streak in NASCAR, and maybe in all professional sports, when he joined Earnhardt's race team for the 2001 Daytona 500. On the last lap of the "Great American Race," Waltrip held the lead with Earnhardt Jr. in second and "Sr." in third. Instead of making his trademark, ruthless charge to the front, Earnhardt Sr. blocked the field of 40 cars to allow his friend to take his first checkered flag. Waltrip never had the opportunity to celebrate with Earnhardt Sr., as the legend was killed on that last lap in what was initially thought to be a minor crash. Later, Waltrip would pay homage to "Sr." on his return to Daytona in dramatic, unexpected fashion.
Runtime1 hr. 55 min.
CastRichard Petty, Darrell Waltrip, Dale Earnhardt Jr.
Director Paul Taublieb
Genre Program
ReleaseSeptember, 12th 2019