Blink of an Eye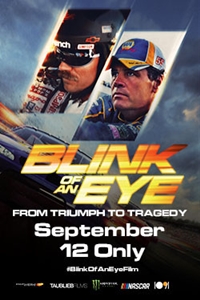 Fathom Events and 1091 Media bring BLINK OF AN EYE, based on a New York Times bestselling book, to the big screen. Don't miss this special one-night-only event featuring exclusive home video from the Earnhardt and Waltrip families.
Runtime1 hr. 55 min.
CastRichard Petty, Darrell Waltrip, Dale Earnhardt Jr.
Director Paul Taublieb
Genre Program
ReleaseSeptember, 12th 2019
Rated