The Metropolitan Opera: Madama Butterfly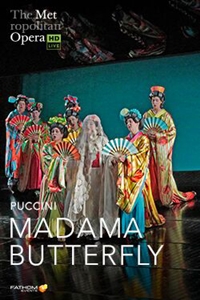 the Metropolitan Opera presents a broadcast of Puccini's Madama Butterfly, live in select cinemas nationwide on Saturday, November 9.

Anthony Minghella's vividly cinematic staging returns to cinemas, featuring soprano Hui He in the devastating title role. Pier Giorgio Morandi conducts one of opera's most beautiful and heartbreaking scores, with a cast that also includes Andrea Carè as Pinkerton, Paulo Szot as Sharpless, and mezzo-soprano Elizabeth DeShong as Suzuki.
Runtime3 hr. 35 min.
CastAndrea Carè, Paulo Szot, Elizabeth DeShong
Genre Program
ReleaseNovember, 9th 2019