The Cure - Anniversary 1978-2018 Live in Hyde Park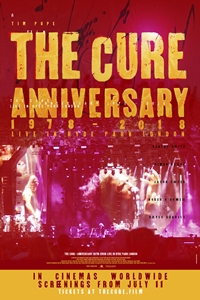 The Cure, acknowledged as one of the world's greatest live bands, take the stage on a perfect July evening in London's Hyde Park 2018 to deliver a set of songs celebrating four decades of music making. The ensuing film "Anniversary 1978-2018", directed by long-time collaborator Tim Pope, captures them in glorious 4K.

Runtime2 hr. 17 min.
CastRobert Smith, Simon Gallup, Jason Cooper, Roger O'Donnell
Director Tim Pope
Genre Program
ReleaseJuly, 11th 2019