NOAH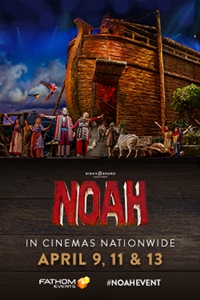 Travel with Noah as he fulfills God's wish, even amidst seemingly impossible odds and the scrutiny of onlookers. The Bible comes to life in jaw-dropping scale as Noah leads live animals inside the Ark – with set design towers four stories above the stage! Filmed before a live audience, escape the treacherous flood with your family as you become immersed in this incredible production – April 9 & 11 Only.

This exclusive stage-to-screen production includes a behind-the-scenes look at the amazing history of Sight & Sound Theatres®, their locations and stage shows, seen by more than 25 million visitors from around the world!
Runtime2 hr. 10 min.
Genre Program
ReleaseApril, 9th 2019