Field of Dreams 30th Anniversary (1989) presented by TCM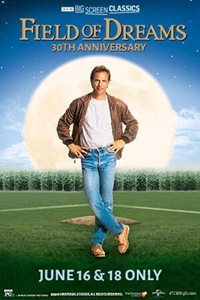 Fathom Events, TCM and Universal Pictures present Field of Dreams, returning to cinemas for a special 30th anniversary event! "If you build it, he will come." With these words farmer Ray Kinsella is inspired to turn his ordinary cornfield into a place where dreams can.
Runtime1 hr. 55 min.
CastKevin Costner, Amy Madigan, Ray Liotta, James Earl Jones
Genre Program
ReleaseJune, 16th 2019