The Wizard of Oz 80th Anniversary (1939) presented by TCM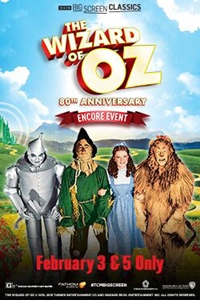 Fathom Events, TCM and Warner Bros. presents The Wizard of Oz returning to select cinemas for a special 80th anniversary event! See the classic musical fantasy on the big screen, featuring exclusive insight from Turner Classic Movies.
Runtime1 hr. 50 min.
CastJudy Garland, Frank Morgan, Ray Bolger, Jack Haley
Director Victor Fleming
Genre Program
ReleaseFebruary, 3rd 2019