Nancy Drew and the Hidden Staircase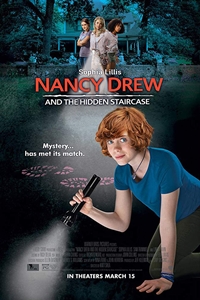 After the death of his wife, Carson Drew decides to leave Chicago behind and make a fresh start with his daughter in River Heights. But for 16-year-old Nancy Drew, life in a small town is mighty dull. She longs for excitement, adventure, and the chance to make a difference. Nancy gets that opportunity when she is asked to help solve the ghostly activity at the Twin Elms mansion.
Runtime1 hr. 29 min.
CastSophia Lillis, Linda Lavin, Laura Wiggins, Andrea Anders
Director Katt Shea
Genre Drama
ReleaseMarch, 15th 2019
Rated