Everybody's Talking About Jamie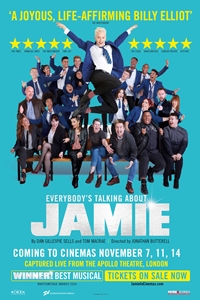 Inspired by a true story, winner of three WhatsOnStage Awards including Best New Musical and nominated for five Olivier Awards, this funny, fabulous musical sensation has thrilled audiences and critics alike since opening in 2017. Fresh and contemporary with an extraordinary mother and son relationship at its center, Everybody's Talking About Jamie celebrates acceptance, belonging, the power of unconditional love of a mother for her child and how good life is when everybody is the best they can be. -----

Jamie New is a 16-year-old from Sheffield, England who doesn't quite fit in. Supported by his brilliant, loving mum and surrounded by his friends, Jamie overcomes prejudice, beats the bullies and steps out of the darkness, into the spotlight.
Runtime2 hr. 40 min.
CastJohn McCrea, Josie Walker, Tamsin Carroll, Lucy Shorthouse
Director Jonathan Butterell
Genre Program
ReleaseNovember, 7th 2018