The Royal Opera House: Faust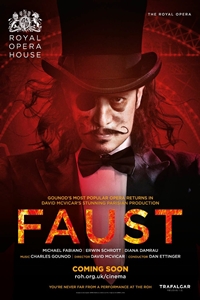 Disillusioned with life, the aged philosopher Faust calls upon Satan to help him. The devil Méphistophélès appears and strikes a bargain with the philosopher: he will give him youth and the love of the beautiful Marguerite, if Faust will hand over his soul.
Runtime3 hr. 30 min.
CastMichael Fabiano, Erwin Schrott, Diana Damrau, Stéphane Degout
Director David McVicar
Genre Program
ReleaseApril, 30th 2019
Rated