Bolshoi Ballet: La Bayadere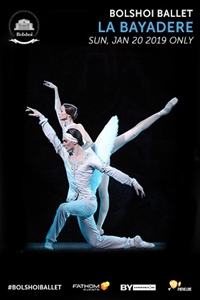 Illuminating the tragic tale of the temple dancer Nikiya's doomed love for the warrior Solor and their ultimate redemption, the must-see theatrical event La Bayadere comes to cinemas across the U.S. on Sunday, Jan. 20 only, captured live the same day from the Bolshoi Ballet in Moscow.
Runtime3 hr. 20 min.
Director Marius Petip
Genre Program
ReleaseJanuary, 20th 2019