Tigers Are not Afraid (Vuelven)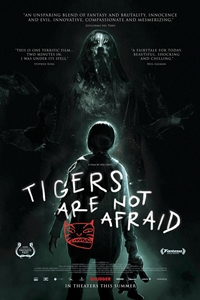 Tigers Are Not Afraid - Hailed by Oscar-winner Guillermo del Toro as one of the best Mexican films in recent years, Issa Lopez's dark fantasy is a heartfelt genre film that surpasses all expectations. Its protagonist, 10-year-old Estrella, has three wishes. The first one is for her missing mother to return. Her wish is granted, but her mother is dead and her ghost follows her everywhere. Terrified, Estrella tries to escape by joining a gang of orphan children, but she quickly discovers that in the real world, ghosts are never truly left behind, and that only the bravest survive the brutality and violence that surround her.
Runtime1 hr. 24 min.
CastHanssel Casillas, Ianis Guerrero, Juan Ramón López, Nery Arredondo
Director Issa López
Genre Horror
ReleaseSeptember, 22nd 2018