The House With A Clock In Its Walls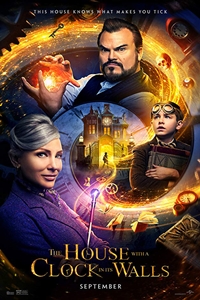 The magical adventure tells the spine-tingling tale of 10-year-old Lewis who goes to live with his uncle in a creaky old house with a mysterious tick-tocking heart. But his new town's sleepy façade jolts to life with a secret world of warlocks and witches when Lewis accidentally awakens the dead.
Runtime1 hr. 40 min.
CastJack Black, Cate Blanchett, Owen Vaccaro, Kyle MacLachlan
Director Eli Roth
Genre Drama
ReleaseSeptember, 21st 2018
Rated