¿Cómo matar a un esposo muerto?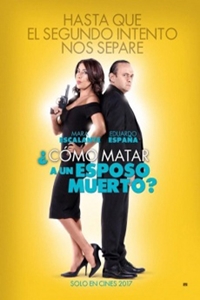 How To Kill a Dead Husband -
Inspired by true events, this irreverent comedy revolves around Carolina, a dedicated mother of two girls married to Germán, a businessman and a womanizer enabled by his brother and partner Fernando. Just when Carolina decides to leave him, Germán dies unexpectedly leaving all his fortune, and the custody of his daughters, to Fernando. Carolina is left alone and on the street. In order to find her happiness again, she must face numerous obstacles to destroy her ex-husband and ruin his legacy, even after his death.
CastMara Escalante, Eduardo España
Director Conrado Martinez, Joel Núñez
Genre Comedy
ReleaseSeptember, 22nd 2018