The Spy Who Dumped Me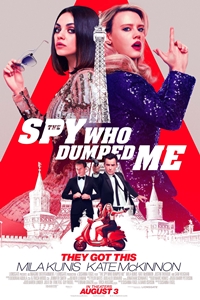 Audrey (Mila Kunis) and her friend Morgan (Kate McKinnon) are going about their humdrum lives when Audrey's unassuming ex-boyfriend Drew shows up at their apartment with a team of deadly assassins on his trail. Surprising even themselves, the two friends jump into action when two men are shot dead on their floor, grabbing a top-secret thumb drive and taking off on a hilarious undercover mission to save the world in this high-octane, continent-hopping spy caper.
Runtime1 hr. 57 min.
CastMila Kunis, Kate McKinnon, Justin Theroux, Hasan Minhaj
Director Susanna Fogel
Genre Comedy
ReleaseAugust, 3rd 2018