Fighting with My Family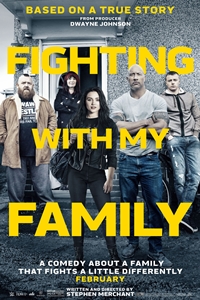 Based on a true story, FIGHTING WITH MY FAMILY follows reformed gangster Ricky, wife Julia, daughter Paige and son Zak as they make a living wrestling together in tiny venues.

When Paige and her brother Zak get the once-in-a-lifetime opportunity to try out for the WWE relationships become stained when only Paige earns a spot in the competitive training program, she must leave her loved ones behind and face this new cutthroat world alone.

Paige's journey pushes her to dig deep and ultimately prove to the world that what makes her different is the very thing that can make her a star.
Runtime1 hr. 48 min.
CastFlorence Pugh, Lena Headey, Nick Frost, Jack Lowden
Director Stephen Merchant
Genre Comedy
ReleaseFebruary, 22nd 2019