Borg vs. McEnroe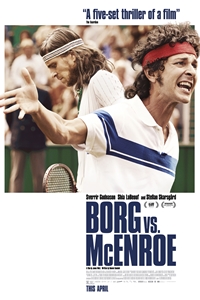 Borg vs. McEnroe stars Swedish award winning actor Sverrir Gudnason as Borg, American actor Shia LaBeouf as his tennis court rival, John McEnroe. As Borg's trainer, the legendary Lennart Bergelin, Swedish acclaimed actor Stellan Skarsgard returns for a major part in a Swedish film for the first time in almost ten years.

It's is a story about the price of success. How the world's two best tennis players, already in their early twenties, are imprisoned by their own careers. Two athletes constantly reduced to each other's opposites by a commercialized tennis industry: the cartoonish "lce Borg" and "Superbrat". Two rivals who, during Wimbledon 1980, are forced to realize that the only person capable of understanding what they are going through is their worst enemy.

Runtime1 hr. 47 min.
CastShia LaBeouf, Sverrir Gudnason, Stellan Skarsgård, David Bamber
Director Janus Metz Pedersen
Genre Drama
ReleaseApril, 13th 2018